%% indicator.name %%

%% profCtrl.getIndicatorValue(indicator) %%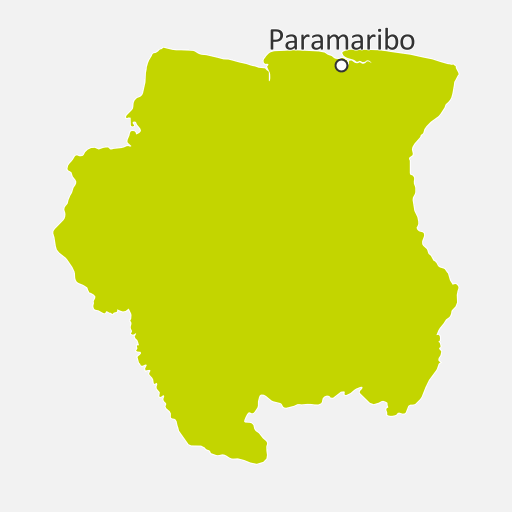 Description
Suriname's electricity market is controlled by state-owned Energie Bedrijven Suriname (EBS), a vertically integrated utility that controls transmission, distribution and 33% of the country's generation, according to 2013 data. The remaining share is generated by the state-owned oil company, Staatsolie, and a private mining company, Suralco.
In 2014, Suriname's matrix had 445MW of installed capacity. The bulk (440MW) is divided between thermal (oil and diesel) and large hydro power. Solar makes up the remaining share. All the large hydro capacity comes from the Afobaka hydro plant, owned by Suralco, with 189MW of capacity. Around 85% of Suriname's 541,638 people are connected to the grid. Customers some of the lowest tariffs in Latin America and the Caribbean, thanks to government subsidies.
Suriname's lack of legislation for the energy sector, and its low power prices are the main barriers to development of renewable energy projects in the country. To date there has been limited renewable energy development in the country, and it has been mainly led by large consumers. The first renewable energy large scale plant, a solar project of 5MW, was commissioned in December 2014 and is supplying power to the IAMGold Rosebel gold mine in Brokopondo district. During 2015 the government has committed to conduct some structural reforms in the energy sector, including the preparation of an Electricity Act and the review of the current power tariff scheme.
Suriname is the third largest oil producer in the Caribbean after Trinidad and Tobago and Cuba. It produces approximately 16,000 barrels of oil per day (bbl/day). Domestic production of crude roughly meets domestic consumption. Refining capacity by Staatsolie is currently being increased to 15,000 bbl/day. Foreign investors or oil companies are allowed in petroleum exploration and production through partnership agreements with Staatsolie. In 2014, 10 international oil companies were exploring in Suriname's offshore waters.
Score Summary
Suriname failed to improve on its last-place finish in last year's Climatescope and in fact registered a lower overall score of 0.22. Suriname's slight gain on Low-Carbon Business & Clean Energy Value Chains Parameter III could not overcome deterioration on Clean Energy Investment and Climate Financing Parameter II, where it was negatively impacted on the Loans, Grants, Grant Programs Indicator.
On Enabling Framework Parameter I, Suriname finished 54th both last year and this year.
On Clean Energy Investment and Climate Financing Parameter II, Suriname scored 0.26, down from 0.47 last year. Its Parameter II ranking was 41st this year.
On Low-Carbon Business & Clean Energy Value Chains Parameter III, Suriname's score of 0.2 matched its tally, putting it in 54th place.
On Greenhouse Gas Management Activities Parameter IV, Suriname moved down one rank to 52nd. Its 2015 score was 0.25 and its 2014 score was 0.33.
Performance
Overall Rank

%% statsCtrl.countryStats.overall_ranking | leadingZero:2 %%

Regional Rank

%% statsCtrl.countryStats.regional_ranking | leadingZero:2 %%

Score

%% statsCtrl.countryStats.value | round:2 %%